Unique and Robust Characterization Capabilities
PDF Solutions is the acknowledged commercial leader in parametric characterization systems, pioneering the use of short-flow test chips for developing and ramping new technologies and products, and has hundreds of validated results from Integrated Yield Ramp engagements over the past two decades.  The CV® System is now also available on a subscription basis.
Download  the CV datasheet
Our Characterization Vehicle System
The CV System provides differentiated parametric electrical data, and when combined with the Exensio Analytics Platform, delivers actionable insights that significantly shorten design iterations and accelerate time-to-market by up to three months.
The CV System is the combination of high-density CV test chip layouts targeted to our proprietary pdFasTest® parallel parametric tester, producing data 100x faster than conventional test chip systems with automatic ingestion into the Exensio® Analytics Platform.  The entire stack is optimized to generate clean data labeled with all key design attributes for efficient summary and drilldown analysis.
The CV System provides sub-PPB (parts-per-billion) statistical resolution, a broad layout pattern Design-of-Experiments (DoE), area efficiency, and automated analysis. Business objectives are achieved in unrivaled turn-around-time: short-flow fabrication shaves weeks to months from processing time and 100% test and analysis of an entire lot of a full-reticle CV can be completed in less than a day.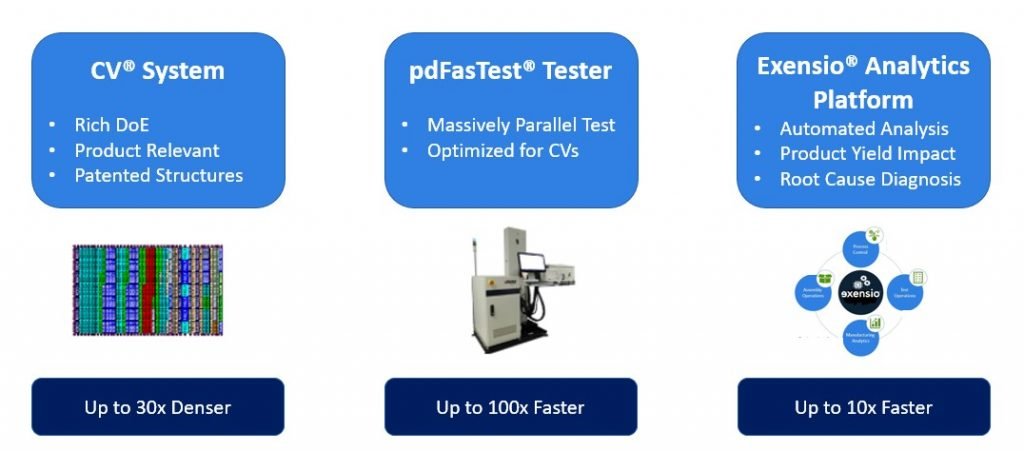 Characterization Vehicle Test Chips
PDF Solutions has provided over 100 CV test chips at 10nm and below. CV test chips are proven to represent the process-layout interactions critical to validate and monitor for high-yielding, stable production. Each CV test chip benefits from our decades of industry experience, and proprietary layouts and DoE customized for your product design style and/or process technology.

CV System for Fabless
First-time-right product tape-outs are critical for business success. Stable mass production is necessary for WIP optimization and profits. The CV System for fabless provides the parametric insight to help achieve your objectives. MPW CV, Product Detective CV, and Direct Probe CV test chips provide the insight necessary to uncover functional and parametric issues before mass production. Scribe CV test chips and CV Core IP blocks provide monitoring and rapid diagnosis capability to achieve high quality mass production at optimized cost.

CV System for Foundries and IDM's
For over two decades, PDF Solutions has helped foundries and IDM's achieve world-class learning rates for technology development and mass production ramp. Our customers rely on short-flow BEOL CV and xFEOL CV test chips (either full-reticle or shared reticle) to maximize learning per wafer with minimum processing, test, and analysis time. Scribe CV provides full-wafer spatial coverage during mass production and enables customization for critical products, achieving the observability necessary for rapid new product introduction and continuous yield improvement.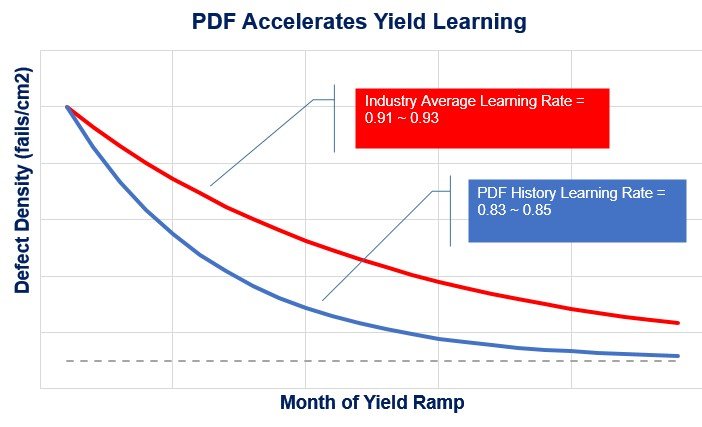 Maximize Robustness and Predictability in Volume Manufacturing
Extensive device characterization data provided by our Characterization Vehicles, combined with product test data analysis in our Exensio Analytics Platform enables accurate, product-specific performance modeling to achieve optimal product-specific process settings, maximizing manufacturing robustness and predictability.