End-to-End Analytics to Accelerate Yield Ramp and Reach Volume Production Faster
Product engineers have a challenging job, constantly digging through terabytes of data to find the issues that are keeping your product from maximum yield, and profitability. The Manufacturing Analytics (M-A) module enables IDMs, foundries and fabless semiconductor companies to achieve a fast product yield ramp and reach volume production as quickly as possible.
Download the Manufacturing Analytics datasheet
---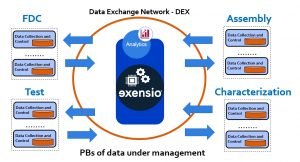 Focus on solving problems, not managing data
In most cases, 80% of the effort involved in an analytics project is just getting your data ready for analysis. The M-A module removes the need for engineers to deal with data wrangling, integration, and alignment. Built on top of DEX, our Data Exchange Network, your data is automatically collected, cleaned, and ready for analysis.
---
Petabytes of Data Managed Worldwide
Only PDF Solutions provides a true end-to-end big data environment for the semiconductor industry. The M-A module can collect data from FDC, Characterization, Test, and Assembly and bring it all together in a common semantic data model and find the root cause of issues faster and easier than ever before.
PDF Solutions Exensio Analytics platform provides data acquisition, normalization, semantic, big data cloud management, AI/ML, and data visualizations Powered by TIBCO®
---
Online and offline rules
The M-A module supports both online and offline rules to look for any data signature that could impact product yield. Examples of rules include monitoring for process issues, outliers, parametric test triggers and statistical rules for bins and yield. In addition to the many built-in rules, M-A includes the flexibility to build customized rules using R for maximum control and visibility into your product yield.
---
Quick Highlights of Manufacturing Analytics
Fast, high-volume, scalable yield management environment
Automatically collect and clean data from different sources/types
Complete lot and wafer genealogy
Automatically mine historical data
Defect source analysis (optional module)
Physical failure analysis (optional module)
Guided Analytics (optional module)
Download the Guided Analytics data sheet